Free MSN Winks - Install Funny MSN Messenger Winks


Wednesday, June 29, 2005 (21:50:20)

Posted by admin


Here is a set of Free MSN Winks that you can easily install! Just download our special Wink installer and they will be added to MSN Messenger!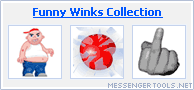 More Winks and information can be found at the MSN Winks area!
Stay tuned to MessengerTools.net for more Free MSN Winks coming very soon!
If you need more Free MSN Winks you can always head over to our Free Messenger Winks page for some more free downloads and information on MSN Winks.