New Animated Emoticons for MSN Messenger 7 Added


Saturday, July 09, 2005 (01:28:00)

Posted by admin


The Animated Emoticons section has been updated with more free Animated MSN Emoticons! This time we have added the second Super Yellow Animated Emoticons package for free download.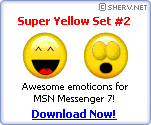 To install this pack just click the above preview to download the installer, for lots more animated emoticons be sure to visit our Animated MSN Emoticons category!