Free Animated Emoticons for MSN Messenger


Friday, June 24, 2005 (03:52:23)

Posted by admin


We have updated the Animated MSN Emoticons section with a new pack of animated emoticons for MSN Messenger 7.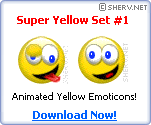 To install these Animated Emoticons just click the preview image above to download the animated emoticon installer. Next you should Open the installer and follow the simple instructions to install your brand new Animated MSN Emoticons. Once installed, you can start using your new animated emoticons in conversations, but be aware that MSN Messenger 6 users are not able to see the animations if you send it to them!
More animated emoticons:
> Animated MSN Emoticons
These large Animated MSN Emoticons are designed specifically for MSN Messenger 7 and can not be installed into MSN Messenger 6, as it does not support Animated Emoticons. If you send an animated emoticon to an MSN Messenger 6 user, he/she will not be able to see the animation!