MSN Names: Girls MSN Names - The Best MSN Nicknames for Girls at the MSN Names Database!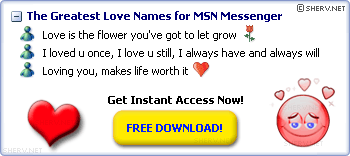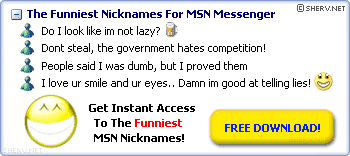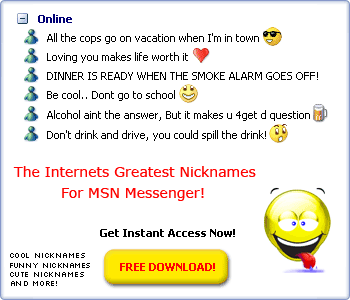 Girls MSN Names
The names in the Girls MSN Names category are strictly for use by girls! They have been made specially for use by girls, so boys stay out and girls proceed to get the names below! If you have some cool and sweet MSN Messenger names for girls, you can submit them to our site and we will add them to the Girls MSN Names section.
Girls Names for MSN Messenger
These MSN Messenger Names are for Girls!
Girls Are Better Than Boys, We All Know It, Boys Try too Hard, But Still Don't Show It!
Girls Are Like Fireworks, Their Kisses Light Up The Night, Their Hugs Make Everything Bright!
Girls Are So Complex, They Confuse Themselves!
Girls Cheat But We Never Get Caught!
Good Looking Girls Are Hard To Find, That's Why You Don't See Me Too Often!
$5,000,000 Reward for fixing my broken heart :(
Girls MSN Names
Good Looking Girls Are Hard To Find, That's Why You Don't See Me Too Often!
Girls rule! (literally look at the queen of England!)
(a)Good girls r (6)Bad girls who neva get caught! ;)
I'm too much princess for 1 boy
True friends are like stars, sometimes you can't see them but they're always there.
Don't wear a frown, its never in style, just try ur best, to smile smile smile :D!
I'm so beautiful I married myself!
Did you like these MSN Names for Girls? Go to the next page for a lot more Girls MSN Names!

Next Page of Girls MSN Names
Jump to page:
1
2
3
4
5
6
7
8
Popular Name Categories:
All MSN Names Categories
Do NOT copy the MSN Nicknames and MSN Names.



Copyright 2001-2006 MessengerTools.NET MSN Messenger Names.
| | |
| --- | --- |
| | More stuff |
| | |
| --- | --- |
| | Survey |
What is your favorite Messenger version?


| | |
| --- | --- |
| | Cool Sites |
| | |
| --- | --- |
| | More Sites |