MSN Names: Love MSN Names, Love Nicknames and Quotes from the Messenger Names Database!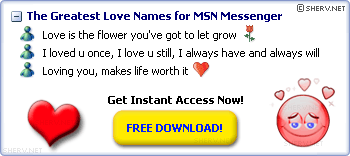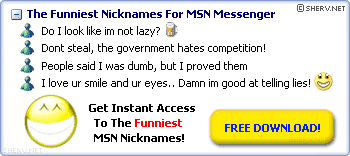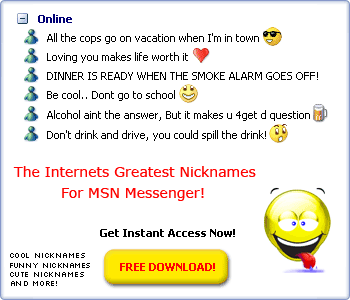 Love MSN Names
Whether you're in love or heart broken, our Love MSN names collection is sure to have a name for you to use to express your feelings! Just go through the lovely names below until you find a name that you like and use it in MSN! We have loads of lovable names so start looking for a love msn name below.
The pages in this category have all your Love MSN Names, Love MSN Nicknames, as well as love MSN screen names, display names, and love quotes for MSN Messenger and Windows Live Messenger!
Get our Love MSN Names for you (and your lover)! Enjoy all of our Love names and be sure to check back for updates real soon.
Love Names for MSN Messenger
The shortest word for me is I, the sweetest word for me is LOVE, but the only word for me is YOU
I need love worth it's weight in gold, Love that's fresh as the rippling springs and never will grow old...
I love you... together, forever.
Love is like maths... Its soooo COMPLICATED!
Love is like air for me, I can't live without it!
Would you break down the gates of heaven to reach the one you loved?
Love is the poison that feeds the soul, addictive and deadly...
More MSN Love Names
Love is like a Rubix Cube, there are countless numbers of wrong twists and turns, but when you get it right, it looks perfect no matter what way you look at it.
Love is like a bar of soap... (L) just when you grab it, it slips away
Once I was told love would save the world... I doubt that!
You know I love you, You know I care, Whenever you need me I will be there!
I loved u once, I love u still, I always have and always will...
Live, Love and Learn!
Love is like blood, its always within you!
Need more love MSN Names? We have lots more love related names for MSN Messenger at MessengerTools! Just click the button below to go to the next page of love screen names!

Next Page of Love MSN Names
Jump to page:
1
2
3
4
5
6
7
8
9
10
11
12
13
14
15
16
17
Popular Name Categories:
All MSN Names Categories
Do NOT copy the MSN Quotes and MSN Nicknames.



Copyright 2001-2006 MessengerTools.NET MSN Messenger Names.
| | |
| --- | --- |
| | More stuff |
| | |
| --- | --- |
| | Survey |
What is your favorite Messenger version?


| | |
| --- | --- |
| | Cool Sites |
| | |
| --- | --- |
| | More Sites |